From Coach Hammer: Attention !! 🔹SM Junior High Volleyball Players🔹🏐 Tomorrow, Wednesday, June 7th is our 1st day of morning volleyball conditioning! It is from 8am-9am(ish) in the junior high gym! 💪🏼 Please bring appropriate shoes and knee pads!! I'm excited to see my returning girls and meet the incoming 7th graders! GO BEARS 💙🤍

Junior High Summer activities begin this week! Please note some of the dates and times have changed. Coaches will keep your students updated should additional changes be necessary throughout the summer.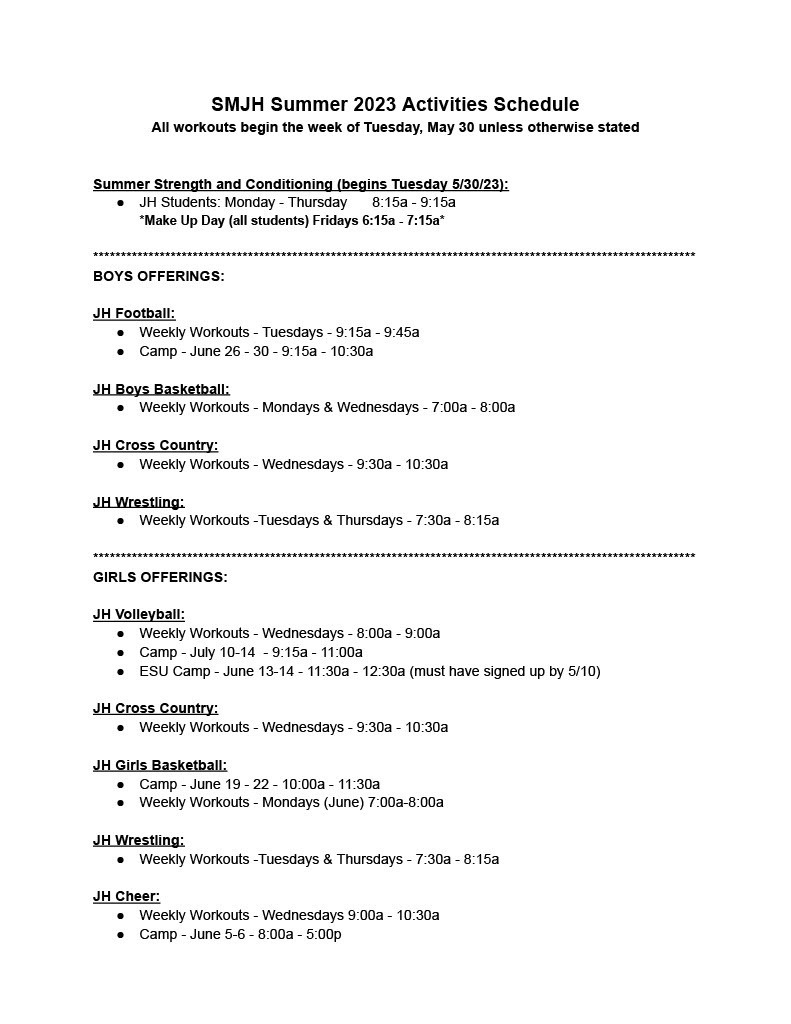 Free Summer Meals Beginning June 5th Open to all ages 1-18 This year Kaw Valley USD 321 will be providing free meals throughout the summer. We will be serving at the following locations and times We will be serving meals on Monday, Wednesday, and Friday Delia Community Center 10:30 -11 AM Emmett Grade School 10:30-11 AM Rossville St Stanislaus Catholic Church 12:00 to 1:30 PM St Marys Jr High Wing 12:00 to 1:30 PM On Monday and Wednesday, we will provide two days of breakfast and lunch meals. On Fridays, we will provide three days of breakfast and lunch meals. All food will be served cold, ready to heat at home. Parents or children can pick the meals up, children DO NOT have to be present. Summer feeding schedule June 5-9 June 12-16 June 19-23 June 26-30 Closed July 3-7th Closed July 10-14 July 17-21 July 24-28 July 31-August 4 th August 7-9 th If you have questions, please contact Nate Wood 785-249-8283 or
woodn@usd321.com
This Institution is an Equal Opportunity Provider

The St. Marys Lady Bears are the 2-1A softball state runner-ups falling 0 - 3 to McLouth.
Going into the 7th inning; the Lady Bears trail 0 - 3.
Lady Bears trail 0 - 3 going into the 6th inning.
After four full innings; St. Marys 0 - McLouth 3.
After three innings, the score remains 0 - 3.
Lady Bears are down 0 - 3 after two innings.
After one inning of play in the championship game, the score is 0 - 0.
The St. Marys Lady Bears defeat Leon-Bluestem 8 - 1. They will play for the state championship at 1:30 against McLouth.
Lady Bears extend their lead to 8 - 0 heading into the 7th.
Lady Bears are holding on to their 3 - 0 lead after the fifth inning.
After four innings of play, Lady Bears lead 3 - 0.
Bears still hold a 3 - 0 lead after three innings.
Lady Bears are up 3 - 0 after two.
Lady Bears lead 1 - 0 after the first inning.
The St. Marys Lady Bears softball team has earned the right to extend their season two more games and one more day with a 12 - 0 win over Central Heights. They will play Leon-Bluestem at 11:00 am Friday.
After 5 innings of play St. Marys 8 - Central Heights 0.
St. Marys leads Central Heights 8 - 0 after 4 innings of play.